A competitor analysis service will help you unlock your brand's message and potential by studying what others have done and how to stand out. When you have all of the information you need, you can start strategizing about how to differentiate yourself and get your voice heard.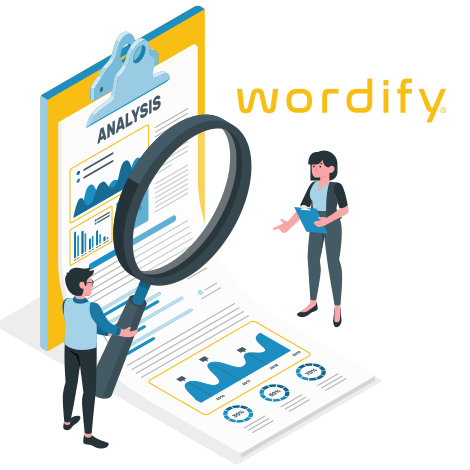 Competitor Analysis Services​​
Competitor Research Calgary
How do your marketing tactics compare to those of your competitors?
Begin your competitor analysis the easy way.
Wordify pros realize that you have specific questions about your industry, brands, services, and products. We personalize our comprehensive audits to your specific needs, taking a deep look at the current trends affecting you in order to provide you with professional, honest views from marketing specialists on where you stand in the market.
Our audits use all available resources, including customer surveys and insider knowledge of competitors' strategies. We begin by determining who your key competition is, whether directly or indirectly. We then zero in on specifics: which competitor has a strong digital presence? What additional media outlets do your rivals use? Which techniques are effective and which are not?
Competitor Classifications
Competitor Analysis Benefits
The most successful organizations employ competitor analysis to maintain a competitive advantage it helps you modify strategy based on the insights you uncover and magnify what works.
When marketers have a great understanding of their brand, it is tempting to believe that competitor research is superfluous, yet this is a prevalent mistake.
Customer decision-making isn't always simple or logical, but by asking your customers about their views, attitudes, habits, and experiences with you and your competitors, you may get a clear picture of how to become a more important part of their daily life.
Most significantly, you can discover tangible, positive adjustments to your marketing techniques, product or service, or business as a whole. Finally, competitor analysis is an important element in establishing a competitive edge.
Competitor Analysis Best Practices
If you know your competitors have left a void for you to fill, it's time to modify your web marketing approach to do so. This could imply launching a fresh content marketing campaign on platforms that are underserved by the competitors. It could imply replying to folks who are currently being neglected on social media. It could also be working to ensure that your SEO performance places you at the top of SERPs for additional keywords.
If your competition research reveals that a direct or indirect competitor provides more value than you, it's time to make some changes. See if you can uncover unnecessary sections of the supply chain or other processes that will help you to create a more compelling value proposition. This could include changing the way your products or services are offered, such as adding a monthly membership tier rather than only an annual one.
A really comprehensive competition analysis, as previously said, should entail gathering feedback from new and future clients. With their comments, you may discover experience gaps that no one in the industry is assisting in closing. This therefore provides an opportunity to evolve your service in such a way that it provides consumers with what they now cannot – and in a more convenient manner.
Remember that Wordify can help you act on your results and stay informed about where your brand stands in respect to your competition.
Consulting Services Calgary

Digital Design
We'll show you how to create modern digital consumer engagements.

Modernization
Develop smarter products and customised services by better utilising digital data.

Strategy
Produce smarter products and personalized services, utilizing digital data.