Our Wordify web design professionals constantly deliver one-of-a-kind, design-forward websites developed with cutting-edge technology, SEO enhancements, and revenue-driving marketing tactics backed up by branded social media campaigns that expedite sales lead generation and customer engagement.
Website Design Services​​
Why Choose Us?
Local Expertise
As a Calgary-based website designer, we have a deep understanding of the local market and can create a website that speaks to your target audience.
Affordable Pricing
We understand that budget is a concern for many businesses, which is why we offer affordable pricing for our website design services. We believe that a great website shouldn't break the bank.
Our ultimate goal is to help you achieve your business objectives, whether that's increased sales, brand awareness, or lead generation. We use a data-driven approach to ensure that your website is optimized for maximum results.
Our Calgary-based digital marketing business is committed to producing top-tier solutions no matter where you are in the world or what marketing goals you have. We create and deliver client strategies that design, refine, and improve brand strategy and clear messaging to generate actionable leads and targeted website visitors.

UI Design
Produce smarter products and personalized services, utilizing digital data.
We're The Web Development Agency For You
Website Designer in Calgary
Website Design and Development
Our team of skilled designers will work with you to create a website that not only looks great but is also optimized for search engines and user experience. We use the latest web development technologies and frameworks to ensure that your website is fast, secure, and easy to use.
Website Maintenance
Once your website is up and running, we'll make sure it stays that way. Our website maintenance services include security updates, performance optimization, and content updates.
With website development, you may speed up and control your company's image. The usage of best practice functionality will make the user's experience across the website as fluid as possible, enhancing the brand's experience and value.
From site speed optimization to navigation upgrades, custom forms and capabilities, website redesign, new pages, categories, or whole platform developments, our web development agency believes in tailored solutions for your business's long-term success as well as to accelerate your marketing.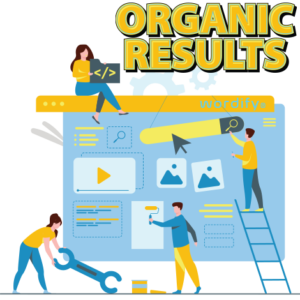 Responsive website design
Custom forms and tools
Booking, calendar and software integration
Version updates and migrations
Site speed optimization
Complete website rebuilds
Click the button below to set up a FREE 20-minute discovery call with one of our marketing experts today to see how we can generate more traffic and sales for your business.
GET MORE CUSTOMERS ONLINE
Get a Custom Website Optimized for SEO and Mobile
Are you just getting started with your website? Or have you contemplated a website redesign and are dissatisfied with the possibilities available? You are in an ideal position for SEO-friendly website design and development, regardless of where you are in the web development process.
Let's Get This Ball Rolling.
Our experienced web design and web development services keep your business goals in mind at every step, whether we're optimising existing site architecture, adding code to improve search results, or creating a new responsive website.
We're The Web Development Agency For You
6124 18 Ave NE, Calgary, AB T1Y 1P1