PPC (Pay-per-click) marketing is a type of online advertising in which marketers pay when users click on their ads. Advertisers bid on the perceived value of a click based on keywords, platforms, and audience type.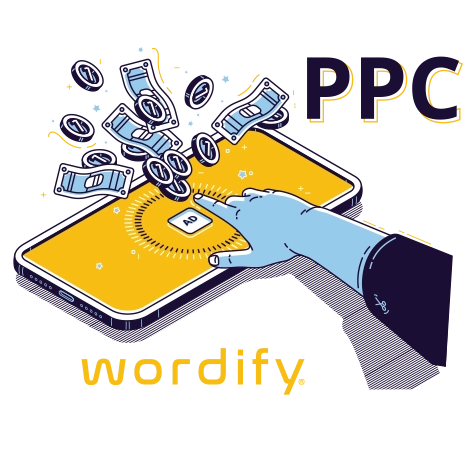 PPC Marketing Company Calgary
Wordify Will Work Constantly To Improve The Efficiency Of Your Pay Per Click Campaigns.
We aren't a pay-per-click (PPC) company that will "set and forget." "Good enough" is never enough for us. We're always looking for new ways to better serve our clients by making their ad dollars go further, whether it's changing how we incentivize users to click on advertisements by tapping into their personal interests or redesigning the entire bid strategy to squeeze more out of your budget.
It is an iterative approach to improving the performance of PPC ad campaigns. That means that, over time, through trial and error, A/B testing, and messaging tweaks, your ads will grow increasingly effective at generating leads while also becoming less expensive.
Our Wordify PPC Management Services Will Improve Your Bottom Line. 
To arrange a free consultation to discuss your company's PPC marketing goals, give us a call or click the button below to obtain a price!
Updated PPC Performance Review
PPC is only effective if you take the time to research the market, understand your customers, create advertisements with relevant messaging, track results, and modify your efforts based on results. We are serious about the results of the digital ads we run for our clients and ourselves.
However, you must quantify your achievement in some way to see whether your hard work is paying off. Advertising professionals frequently cite engagement numbers—impressions and clicks—as the criterion by which their efforts are judged in our industry. However, views and clicks do not always equate to sales! Are you getting the proper folks to click on your links?
When you deal with Wordify, you're partnering with experts who are dedicated to your digital success. So, whatever your objective is. We can help you with traffic generation, lead generation, sales optimization, and brand recognition. Our SEO techniques may be described as "tuned for success."
Our PPC Advertising Services