WordPress is one of the most SEO-friendly platforms available, and it can be customized to meet your specific requirements. It is also completely versatile. As a result, your WordPress development company ought to be as well.
WordPress is Fast
Wordify works with you; as a company, and as a WordPress agency, we understand how crucial it is to satisfy clients.
The nicest part of WordPress as a content management system is that it is quick, incredibly functional, and still maintains a user-friendly interface. It is also search engine friendly and has enormous development potential. It's unpaid. WordPress can meet your needs whether you want a website to display your portfolio or are a start-up e-commerce business. We can do that too because we are an established WordPress development company.
How Can We Help?
Our goal is to give your stale website new life by developing a dynamic hub of information that is optimized for search engines to get higher rankings and user-friendly layouts that encourage conversions by making each purchase simple.
WordPress Development Advantages
Why Work With Our WordPress Development Agency?
We have expertise growing small businesses and well-known brands, so we understand how crucial it is to develop positive customer relationships at the start of each one.
Our experience with WordPress has been consistent with our commitment to finding, creating, and delivering successful strategies for SMEs and beyond.
A WordPress website that puts your company at the top of your clients' minds is something we develop as a skilled WordPress firm by fusing creative design with marketing know-how.
When you deal with Wordify, you're partnering with experts who are dedicated to your digital success. So, whatever your objective is. We can help you with traffic generation, lead generation, sales optimization, and brand recognition. Our SEO techniques may be described as "tuned for success."
WordPress Development FAQs
Wordify Built Websites will Rank on Google.
Expert WordPress Website Design & Development Agency
WordPress is an open-source platform that provides the world's most popular website content management system (CMS). Because it is adaptable, simple to use, and completely customizable, it powers over 28% of ALL websites on the internet.
Aside from the fact that it is free, the best feature of using WordPress is that it is constantly updated and refined. With each platform update, everyone who uses the software gains access to impressive new features and powerful functions that keep their websites ahead of the competition.
A WordPress website can help you in a variety of ways. We've broken down some of the key benefits below, but if you have any questions, get in touch with our team and we'll be happy to walk you through our experiences creating with WordPress.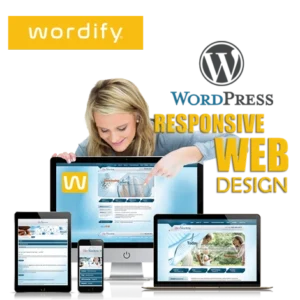 We will be proud to provide you with a customized WordPress Services in Calgary. Wordify Digital Marketing can help you enhance your search engine rankings over time. Make a call now!
GET MORE CUSTOMERS ONLINE
WORDPRESS WEB DESIGN SERVICES
Wordify is a WordPress website design company. WordPress is central to everything we do. Whether we're designing and developing an engaging new WordPress website or utilizing one of the numerous innovative plugins available to optimize your SEO, WordPress provides us with the flexibility and security to create intelligent and bespoke solutions for our clients.
More traction for your Calgary Business
Since 2010, when the software emerged and revolutionized online design and functionality, our team has been building WordPress websites. WordPress is used by approximately 75 million websites worldwide, making it the most widely used open source Content Management System (CMS).
Every WordPress support retainer with Wordify includes:
Updates for WordPress, themes and plugins
Daily website backups (files and database)
Powerful malware security scans
IP blocking for brute force attacks
Broken links scan
Removal of spam comments
Database optimization and site performance checks
Website optimization recommendations
Monthly reports on all maintenance activity
Our WordPress Services Include

Your current hosting environment might not be able to accommodate your growing needs as your website gets bigger. A website migration service should be high on your priority list if you've had too much downtime recently.

Wordify as your website maintenance partner gives you access to our knowledgeable development staff and all the tools you need to keep your website running smoothly. We streamline the process for our clients.

Develop your target keywords, goals, and objectives for SEO and organic traffic in collaboration with our in-house SEO specialists. After that, our digital team will launch an ongoing SEO effort to bring month-over-month increases in organic traffic.
6124 18 Ave NE, Calgary, AB T1Y 1P1